Back in March, many people started stocking up their pantries as news of the pandemic panicked America. Items like toilet paper and cleaning products suddenly vanished. Also, canned goods started selling out as people wanted to make sure they had enough food on hand.
For Crystal MacDonald, a mom of five in Attleboro, Massachusetts, finding the store shelves bare was a real problem. Her 11-year-old daughter, Ashlyn, is autistic and usually non-verbal. Due to the pandemic, Ashlyn's routine was disrupted, and she couldn't go to school. Upset, she started refusing to eat anything except her go-to comfort meal: SpaghettiOs with meatballs. However, the stores were sold out.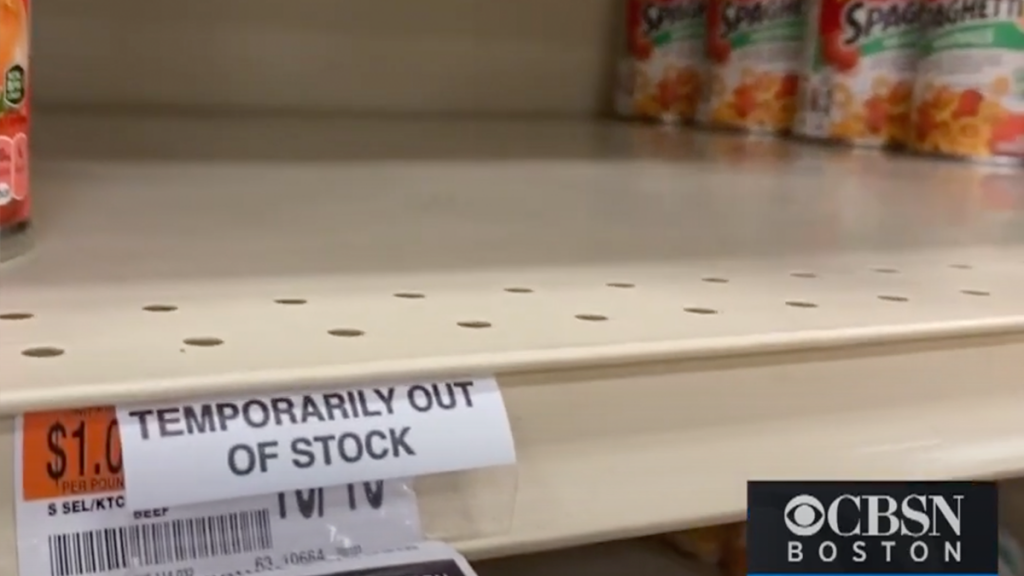 MacDonald, who stopped working to care for her kids, tried to make do with generic brands as a substitute. But Ashlyn immediately recognized the imposter and wouldn't touch it. Only the real deal would do, and she insisted on the same canned pasta meal for breakfast, lunch, and dinner.
"I tried all the non-brand name versions I could. I even prepared them when she couldn't see the can, but she always knew it wasn't SpaghettiOs and would refuse to eat them," MacDonald said.
The caring mom explained why having the same food was so reassuring for her daughter.
"Structure is what centers her — it gives her a sense of control when everything else seems chaotic and overwhelming," MacDonald said. "Ashlyn is most comfortable when she feels like she's living 'Groundhog Day' every day. SpaghettiOs are a sensory experience for her."
Thus began MacDonald's "treasure hunt" for SpaghettiOs. The concerned mom traveled to as many as 20 grocery stores and food pantries a day to find the only food her daughter would eat. Unfortunately, her search was only turning up empty shelves.
For five months, she traveled far and wide to try and round up whatever she could find. As she did, store managers became familiar with her as she called back.
Then, a local paper, the Sun Chronicle, ran a story about food shortages in Attleboro. As it turned out, lots of area shoppers were buying out their favorite comfort foods, like frozen products and canned items. Delicious ice cream was particularly desirable.
After the story featuring MacDonald ran in August, the community began responding in a big way.
Soon, the family's SpaghettiOs shortage was abruptly over. Amazingly, her community showed an outpouring of support and noodles.
"So many people have either reached out with tips or with purchasing SpaghettiOs for us," MacDonald told NBC 10 Boston.
Meanwhile, on Facebook, her friends and neighbors contacted her to drop off more cans for Ashlyn.
"We've gotten almost 200 SpaghettiOs so far, and it's just been wonderful. It's been such a blessing to not have to worry about finding them and feel so loved and accepted by our community," MacDonald said.
From there, the pasta supply got an enormous boost. First, Ashlyn's story appeared in the national media.
"It has been an incredible experience to feel so much love from our community," MacDonald told TODAY.

"As a parent of a special needs child, it can be a lonely existence and one that you imagine others to not quite understand. Especially in these times of such turmoil and hardship, it has been incredible to experience such kindness."
Following the story, TODAY reached out to the makers of SpaghettiOs, the Campbell's Soup Company.
Soon after that, the Campbell Soup Co. delivered 782 cans of the product that's been around since 1965 to her front door.
Many of the people who helped could relate, having relatives or friends who also have autism.
"Our pantry is now loaded — it's been heartwarming," she told the Post. "A lot of people tell me, 'I have a son with autism,' or 'I have a sister with autism.' They can relate to what it's like to try to give a child that one thing that makes them feel good."
In an interview with CBS Boston, MacDonald reflected:
"I always remember Mr. Rogers and what his mother used to tell him is, "Look for the helpers," said MacDonald. "To see the helpers in our community helping us –that is such an amazing gift beyond what they've given us; this gift of a real-life hope. I can teach that to my children."
See the story from CBS Boston below: