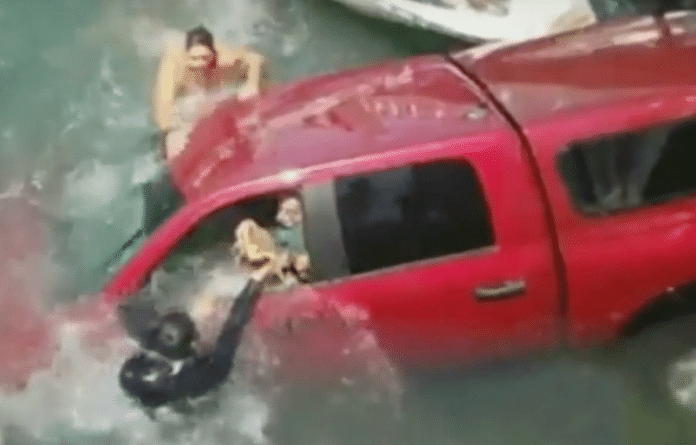 Good Samaritans came rushing to the aid of 87-year-old Mary Watkins, her 67-year-old son, Larry, and their 4-year-old pet chihuahua when their truck unexpectedly lunged forward, crashing through a railing and falling into the waters of a busy boat marina in Long Beach.
The car went from the parking lot to the water below in seconds. The occupants were extremely lucky that the vehicle remained floating and that the rescuers were able to open the unlocked doors.
LBFD Lifeguard units responded to reports of a submerged vehicle just after 1pm today. LIfeguard and vessel assist personnel arrived and made water entry and extricated an elderly couple from the vehicle. Couple was treated on scene and released. Accident under investigation. pic.twitter.com/OaSU2kZ1mV

— Long Beach Fire (CA) (@lbfd) August 19, 2018
It was all captured on security video (see below).
One of the men who dove in to help is a former lifeguard and towboat operator, Mike Del Grande. He helped rescue Mary and free the Chihuahua's leash.
Jeff Jones took video of what happened after he ran to a nearby lifeguard station to get help. Soon fire trucks, the marina patrol, as well as the lifeguards were on the hectic scene.