There are certain special friendships in our lives that can be truly life-changing. And when it comes to the special bond between Missouri native Klynn Scales and her all-time favorite police officer, this statement could not be more valid.
Every day when Klynn was 9-years-old, she would wait for a particular officer to make his rounds. And the two always looked forward to brightening each others day.
Then one day something happened that may have cut Klynn and her friend's life tragically short had it not been for her special friend who turned out to be her guardian angel.
Every day Klynn used to look forward to greeting a local police officer assigned to make rounds in her neighboorhood. She would keep track of what time he would be passing by her house and sit waiting for him at her window.
When the officer would pass by, the litter girl would wave excitedly to say hello.
As for the officer, he too enjoyed the friendly, uplifting daily interaction and would wave back.
Every day the two exchanged hellos, in a routine that always brought a smile to their day.
But there was a reason why Klynn's neighborhood was patrolled daily. You see the little girl did not have what you would call a carefree childhood.
Klynn grew up in Kansas City, Missouri during the 1990s. When she was a little girl, she would help her mother take care of her younger brothers. To anyone looking at her life from the outside, she seemed like a young girl with a normal life.
However, her life was anything but ordinary.
Klynn's neighborhood was so dangerous that she always felt more secure seeing the police officer drive by her house every day. This was the reality of Klynn's young life, and she found a way to embrace it. Which fortunately for her, helped her make it through a difficult time in her life.
Klynn's home was in a neighborhood ruined by drugs and violence. It was a reality that millions of children like Klynn had to live with daily. To make matters worse, Klynn's mom was rarely home, since she had to work hard hours just to make ends meet. This meant that a lot of Klynn's childhood years was spent raising her two younger brothers, alone.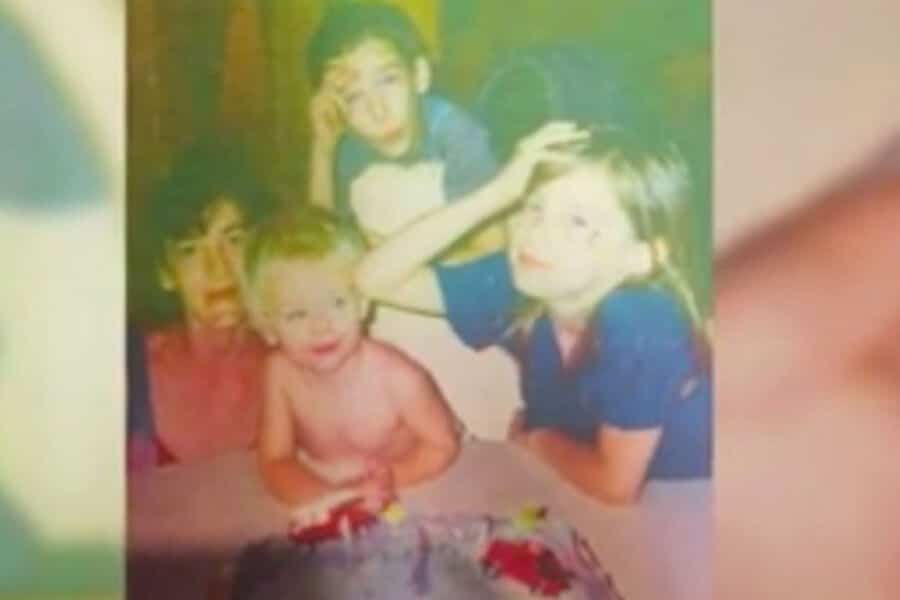 That's to ask of anyone, especially a teenager.
Klynn had to take responsibility for the welfare of her and her two siblings. Living in a desperate situation, she often did not have money to pay for essentials, like food. So as a teen she would resort to stealing what they needed to survive.
On top of that their neighborhood was so dangerous that even small trips to their local 7-11 were risky ventures. Klynn would eventually start to suffer health issues as she cared for her younger brothers, often driving them where ever they needed to go.
Because of the hardships Klynn and her family faced, it wasn't long before local police noticed them. They learned everything they could about the down-on-their-luck family. But one officer, in particular, became very concerned about their situation.
Little did she know that this officer, she greeted every day, would become her real-life knight in shiny armor on one fateful day.
In fact, the officer even made her a personal promise one day during one of his routine patrols that he would look out for her and her family. An adult Klynn recalled that promise:
Klynn said, "Through all the bad situations, I would just picture him saying that he was here for us."
That officer's dedication helped the young girl through some of her darkest times, "those words would come to me during the worst times of my childhood life." But it wasn't until that promise was fulfilled did Klynn indeed come to realize that there was still good left in the world.
From the age of 9, Klynn quickly became attached to her new friend, "He was the one person that I trusted in my life as a kid." Their greeting was a special ritual that the two came to count on as sure as the sun would rise.
So when Klynn didn't show up at her window to greet the office one day he knew in his gut something wasn't right.
The officer cautiously approached Klynn's front door, and that's when his instincts kicked in. When he opened the door what he found was devasting.
The little girl he greeted every day was struggling to take a single breath.
Without delay, the officer rushed Klynn to the emergency room, where all he could do was wait. Of course, we all know she survived, but during those anxious moments, the officer had no idea how things would turn out. It's hard to imagine how helpless he must have felt outside of the emergency room.
Thankfully, the officer's quick thinking saved Klynns life. At the hospital, they determined that the little girl was severely malnourished resulting in her collapsing to the floor.
Had not the officer found her when he did, there's a good chance she would not be alive today.
Shortly after the incident, the Klynn and her family moved to Texas. She never had a chance to tell the man who saved her life, thank you.
However, Klynn knew it was never too late, and so 20-years-later she set out to track down her unnamed hero.
When Klynn began her search, one of the first things she did was to post about her experience online. She had no idea who might see the post, but she remained optimistic.
Her optimism paid off bigtime when she saw a comment by Jennifer Jones.
Jones was a sergeant with the Kansas City Police and read Klynn's heartwarming story. She told Klynn that she believed she knew the officer being described.
Klynn couldn't believe it. Was her search going to be this easy?
The answer was yes.
In 2016, officer Jeff Colvin opened an email from Jennifer Jones. In the email, she talked about Klyn and the story she wrote online. She explained that there the little girl who lived down the street from the same station which Colvin worked was now an adult who desperately wanted to find the man who saved her.
Colvin recognized the story straight away. He knew immediately that Klynn was the girl he saved so many years ago. The years of worry and wondering were soon washed away from his soul and replaced with joy and happiness.
Officer Colvin never forgot about Klynn, as he said, "I had actually thought about her and wondered whatever happened with her."
The officer was ecstatic to learn the truth of what happened to his friend. He was overwhelmed with happiness to know she was okay and incredibly touched; she remembered and reached out to find him.
Now the only thing left was to have a reunion.
After 20 years of not knowing what happened to each other, both Officer Colvin and Klynn finally met again in person.
During the touching reunion, both were overcome with emotion. Klynn broke down in tears when she was finally able to set eyes upon her childhood hero once again. She admitted that she never thought this day would come.
The reunion also changed Officer Colvin's life as well. For a long time, he spent many years on the force dealing with more failures than successes and was starting to lose his passion for the job. But after seeing Klynn again, that fire re-ignited inside of him.
He said, "most times we go through our career not realizing we truly helped anybody out. I wondered if I was even in the right career path."
Little did Officer Colvin realize how much of an impact his relationship with Klynn had on her life, as she decided to follow in her hero's footsteps applying to become a police recruit in Houston.
She now aspires to be the force of good that once saved her life. But the surprises didn't end there; she had one more thing to tell him.
As soon as Klynn leaned the identity of her childhood hero, she had a special bracelet made to honor him. It reads "Sgt. Jeff Colvin 'A True Hero'".
Thanks to Officer Colvin's actions Klynn was also able to start her own family.
This heartwarming story proves the affirmative power police officers have on our communities and individuals. However, Klynn wasn't the only life Officer Colvin managed to touch as she found out soon after her story went viral.
Several people also came forward with stories about how this kind police officer impacted their lives; it turns out that Officer Colvin was much more than a one-time hero.
Thank goodness for police officers like Jeff Colvin. I think we all can agree that we need many more like him patrolling our streets and need to recognize more officers like him who put out such positive energy into our universe.